First Cut is the Deepest
long long time ago in a far away land, when i wanted to be a webdesigner. not anymore, though.
and yeah, right now i put them all on geocities because paying some money for webspace every month, without making money out of it, is just something i don't feel like doing. and my sites have lots of frames! with yahoo banners intact, you imagine the mess!! so if you're annoyed by those banners, give me free, say like 100 mega, no-ad webspace, otherwise you just have to live with it :)
and ow, ow, so many images are no longer there!! including background images!! and to add more excitements, dead links are everywhere!!
ooookay, easy...., take a deep breath, just grab the concept. if you have 3-digits IQ you will get it in no time, without letting any trivia things, like unavailable images and never-landing links, screw up your understanding and wisdom.
..arrive without travelling, do all without doing..
--------------------------
first site,
PennyLane Book Corner
, come on down!!
this was the very first website i created. the idea was to make a li'l cozy corner on the web to read some good books. i hid 'about me' button somewhere on this page. well, not really hidden, i mean i put the link with no indication whatsoever.
although very basic and extremely amateur looking site (created using FrontPage. really dirty codes, tell me about it), i had a great time with it. first cut is the deepest, i guess.
--------------------------
Food Lover's Guide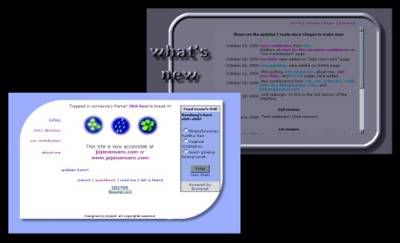 dedicated to all food lovers like myself, this second site of mine got reviewed from
HerWorld
magazine (Indonesia printed edition) and a rage from someone working for Masima Group who claimed that the content was all his. that was hilarious.
Well, if you've been webified since like 1997, you must be familiar with the content, because this information has been going around through emails since then and many people contributed to the list. In fact, one day i bumped into one particular site containing quite similar information.
So, Masima guy, you can stop being such a drama-queen. we've got enough of them without you adding to the crowd.
--------------------------
Anti Sinetron
a MONUMENT OF WAR AGAINST STUPIDITY
i mean, who is not?
what stopped me from continuing to air this site was only the difficulties i got from the responsibility to watch all those tv serials to assure quality of my reviews. it's too painful for my eyes and ears. too depressing for my mental. have i decided to keep writing i would be facing two options at the end: soul assylum or shooting those ugly things before literally shooting myself. so i claimed r.i.p. on the site, simply to protect my sanity.
this merciless-but-truthful site was reviewed by some web media, a tabloid, and
Djakarta magazine
printed edition. One respected advertising company wanted me to join their team after looking at this site. i had to turn it down because they wanted me to start as an AE, for the love of God. i beg your pardon? are you kidding me?
And yea, they stole the concept alright.
--------------------------
On Air!
- the broadcasting site
This is a site I planned to be about broadcasting world: stories from work, announcer profiles, philosophies, awards, everything.
Right now it's only me in there, explaining one feature to another.
I'm keeping it for my next project. After all, no matter where I go or what I do, at heart I'm always an announcer.
--------------------------
Another Song
a love story.
between a girl and a cyclone.
'nuff said.
well, this veeeery personal site was the last site i made. suddenly i noticed, that i was more concerned with the content, rather than the design itself. so, i guess that's how i became a copywriter :)
--------------------------
so, after seeing all those sites, are you hiring me at all?
oops, forgot, you can't! 'coz i'm retiring, remember?
thank God..
a-ha.
no, no, no, i'm a lovely person. if you need my help, i'll build a website for you :)
[
i created three other websites, professionally, for the money. but that's it. i'm just through with webdesigning :)
]
--------------------------
Rumah Pohon
Woops, i forgot one website.
this site was supposed to be my journal website. i created it long before the blogging euphoria even began.
feel free to take a look. and if you want to use it as your template, let me know, i might give it to you for free.
--------------------------
so...
are you hiring? *wink*
otherwise you're just spying on me.
...