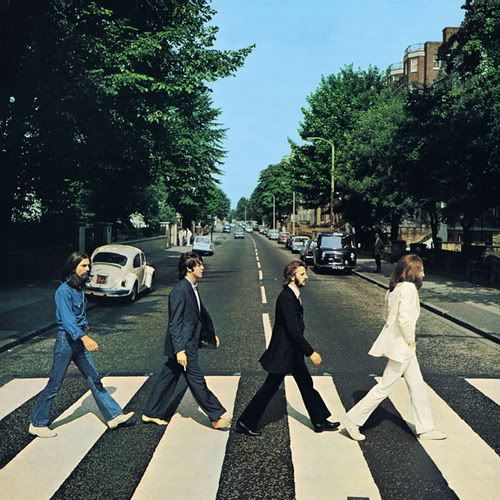 ...That moment I knew,
I have
to go there
...
Why PennyLane? What is PennyLane?

I
got those questions like thousands of times. I don't know whether I am too old for my circle or whatever, but my happy day was when someone came up to me and said, "Hey, Beatle fan, huh?" Phewh, there are other old folks other than me! We speak the same language, luckily if he's another Fab Four freak, most likely we had already connected through the vibration of the universe. Yea, hyperbolism.
Anyway.
Since writing is always one way to cure my insanity, it acts as therapy, making closures of everything unfinished, this blog writing competition will as well be my outlet to straighten up things. No, PennyLane is not my name. What, why and how, I am about to tell you a story that will answer those what-why-how.
Thirty
seven years ago --Gosh, I'm old!--, a baby girl was born to an already brady-bunch family. Adding up to the pile, the gank of six children immediately become seven. Being the youngest, the baby did not have much choice other than following the rule of the house. Four boys on the top row had music played every morning, day and night, on their gigantic tape deck saloon. It was a top notch audio system their father bought for the family. The rest of the gank, two girls, followed the rule without much trouble.
To
this point, you must have had guessed what this story is leading up to. Yes, they played The Beatles. Of course. It was 1972, when John Lennon was the music itself. They played it in the mornings, during the days, and at nights. It was like a religion. And out loud!
The
baby girl, who obviously was me, absorbed everything right away. I remember I was 4 years old, listening to
Strawberry Fields Forever
, while singing along reading the song lyric in my hand.
*yes, I read since I was 4*
Let me take you down 'cause I'm going to Strawberry Fields..





And
my brothers, they really thought they were the band itself. They had every album, every single, in every form, every version. They had the rarity gizmoz: unpublished records, bootlegs, videos, movies, books, photos, posters, t-shirts. They took part in radio program dedicated to the band. Much worst, they performed in their school prom as Beatlemania Band. Like I was not enough to be their victim they had to involve other people!
So,
now the skeleton in the closet is exposed: it was all my brothers' fault. Since then, I don't have much left than to accept the ideology they had planted in me. The Beatles was the first music I heard as a child, it is in my blood, my self-being.
When
I first had to identify my existence on cyber media back in 1997,
PennyLane
was my screen name --taking turns with
AbbeyRoad
and
RubberSoul
. Then it became my product brand
*I baked killer brownies, by the by*
. And now it's simply all over me.
Up
to this point, my life was pretty much okay. I lived a normal life, my friends knew me as the beatle-girl,
"Riana? Riana Beatles, kan?"
. Everything was fine there beneath the blue suburban sky. Until one morning.
I
remember that morning. A clear morning, when I picked up the newspaper and spread it to a somewhat eye-opener view that would remain in my memory forever: it's a series of photos of "
magical mystery tour
". No, I mean the real tour! A coverage tourism report on all things related to Beatles:
Abbey Road Studio
in London,
The Cavern Club
, Penny Lane, Strawberry Fields (it's a building), The Beatles Story museum in Liverpool, to
Imagine mosaic
at Central Park New York! Man, it got me on my knees!
It
was a life-changing moment. That moment, I knew, I have to go there. To London, Liverpool, maybe Central Park NYC as a bonus. Almost like a pilgrimage journey, the dream was right away placed side by side my lifetime dream to go to Mekkah for hajj.
However,
there is nothing new under the sun: life was never fair. While I was daydreaming, drawing a get-rich-quick scheme to finance my magical mystery tour (plan A), trying to decide whether robbing a bank (plan B) was more efficient than selling my friends (plan C), my sister, who worked for an airline company, easily went to London and Liverpool back and forth a couple of times on company budget; she had a boyfriend who went to school there, she even once visited him to spend new year's eve driving from London to Blackpool! Everytime she got home after a visit, she would show me photos of her in every place I wanted to go to. I was like.. under ten feet of craps below the ground. Mental-wise.
Time
goes by, and my interest toward European things grew fonder. The gorgeous buildings, museums, culture, music, food. Salzburg and England to be precise. The Sound of Music and The Beatles. Queen, Genesis and The Rolling Stones. Notting Hill and Princess Diana. The castles and the rain. The red bus and the rain. Yorkshire pudding and scones. And Jamie Oliver and Nigella Lawson. Geez.
Since
plan A, B and C now went into trash bin because I couldn't seem to master Russian language needed to perfect the scenarios, I have to go the other way. The legal way it is. I mean, for once, it doesn't hurt. So if by any chance, the planets happened to be aligned in one perfect straight line, an opportunity came my way to take additional education in the land of Robin Hood and King Arthur, oh well, this, is my case. I will be studying while trailing every speck of what those fabulous four had left behind. I don't care what major I would take
**culinary art would be awesome, though**
, as long as I could sip my earl grey tea in the afternoon, looking at the fool on the hill, once again beneath the blue suburban sky, but this time I know, I have arrived to the place where I belong.
---
Technorati tag:
Kompetisi Blog BC EducationUK